Welcome to Data Driven Investment Manager (DDIM).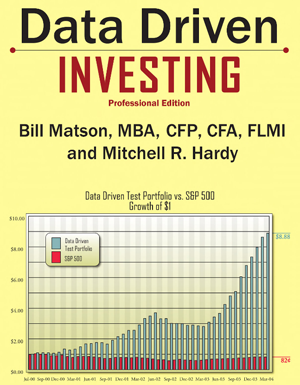 Based upon the principles discussed in our book, Data Driven Investing (available free on Google Books), DDIM offers weekly ratings on over 3000 stocks. We place special emphasis on small capitalization stocks that receive little, if any, attention from Wall Street analysts. Our 52 years of backtesting and more than 16 years' trading experience (with over 20% compounded annual returns as summarized on this page, and as fully documented here as well as here) provide compelling evidence that small cap value stocks are a good bet to consistently outperform household names by significant margins (explained here) - especially when they have other characteristics that our research has found to correlate with superior returns.
We are also huge believers in the value of vetted crowd sourced information. As we consider Seeking Alpha to be an outstanding resource for information and discussion that complements our ratings, we have tightly integrated our screening process with the articles provided on their website (free registration at Seeking Alpha required for basic access to articles).
Before clicking here to open the DDIM Screener, please review our Frequently Asked Questions and our videos for instruction in the use of our screener and Seeking Alpha, as well as for tips on trading strategy and portfolio management. You will also find it useful review our book!
Additional questions? Suggestions? Please post on our moderated public forum. An administrator will review and answer as quickly as possible.
For private inquiries, This email address is being protected from spambots. You need JavaScript enabled to view it..
By using our website, you accept our Terms and Conditions of Use and our Privacy Policy in full; accordingly, if you disagree with the Terms and Conditions of Use, or the Privacy Policy, or any part of these documents, you must not use our website.
Note! Past performance does not guarantee future results. Any stock can theoretically go to zero at any time, including Apple and Walmart. DDIM is a division of BrainFutures.com, Inc. Use of this site signifies your agreement that in no event will BrainFutures.com, Inc., its officers, or its employees be held liable for users' investment losses.